About Nuts.com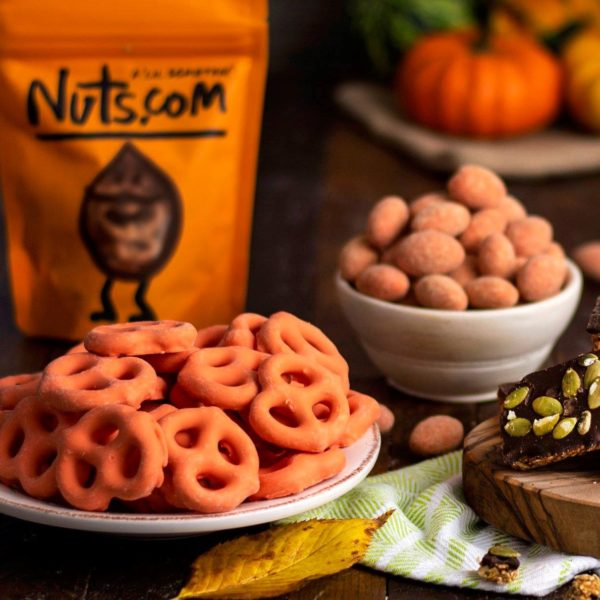 In the mood for roasted pistachios and dried fruit? Nuts.com offers a wide assortment of trail mixes on their website, including blueberries, chocolate-covered espresso beans, and crunchy hazelnuts.
With a steady following of over 38.8K on Instagram, it seems that thousands of customers are going nuts over this company. They are also featured in numerous media outlets, including Business Insider, Bon Appetit, and USA Today.
If you've got the munchies, we recommend staying for this Nuts.com review. In this commentary, we'll take a closer look at the brand, its products, customer ratings, promotions, and more, to help you decide if they're worth a bite.
Overview of Nuts.com
Nuts.com was born out of a simple American dream. In 1929, founder 'Poppy' Sol wanted to leave his 10-year job to establish his own family-run company. And so, with a loan provided by his bank, he created the Newark Nut Company.
It was a humble beginning for Sol, as his business started off selling nuts and dried fruit at the Mulberry Street open-air market in New York City. What came after was years of dedication and hard work, as the company torch was handed off to the next generation.
In 1999, NutsOnline made its official internet debut. It was later rebranded as Nuts.com—after being repeatedly misnamed by customers and celebrities alike.
Today, with its headquarters located in New Jersey, Nuts.com continues to produce dried fruits, nuts, and other delectables for customers to try out. As a final note, the brand states that they'll carry on their family-centric business approach for years to come.
"We do it the "Old Fashioned Way." One taste and you will know the difference. My grandfather began building our reputation back in 1929 and, 92 years later, we continue to make sure that every product we sell is second to none. That's a promise. 100% satisfaction guaranteed!"
Before we get into this Nuts.com review, let's go over some initial pros and cons:
Pros
Over 2,000 different snacks to choose from
They offer dietary options such as vegan and gluten-free
All treats are roasted and made fresh to ensure quality
Their packaging is 100% recyclable and biodegradable
Free shipping on orders $29 or more for new buyers
Cons
Most of their products are offered in bulk
A few reported issues with customer service
No Nuts.com promo codes
Whether it's for trails, lunch breaks, or a way to save on concession stand food at the movies, Nuts.com can satisfy those insatiable cravings. They offer a wide variety of dried fruit, nuts, chocolates, and sweets on their website.
But, it doesn't stop there, as customers can also purchase superfood powers, snacks, coffee, tea, and ingredients for cooking and baking.
We suggest that you eat beforehand, as this Nuts.com review will make you hungry. Moving forward, we'll take a look at some of the best-selling products for customers to try out.
Nuts.com Review
Warning ahead; the information you're about to witness will lead to drooling, salivating, and stomach rumbling in the end. We aren't responsible for any mindless purchases made by the end of this Nuts.com review!
For those willing to take the risk, we've compiled a short tasting session of some of their top-selling snacks down below.
Nuts.com Marcona Almonds Review
For those stuck on the potato chip binge, the Marcona Almonds act as a much healthier substitute. Roasted in rich olive oil, this decadent blend offers that satisfying crunch while delivering that salty tinge.
Known as the Queen of Almonds, this nut variety hails from Spain. In terms of nutritional value, they are reportedly high in monounsaturated fats. While you're invited to eat these nuts alone, we recommend adding chocolate fudge for a more decadent treat.
There's a recipe offered by the brand that uses walnuts, but there's no harm in subbing one ingredient out for another, right? For a savory and crunchy snack to help tie you over to dinner, the Marcona Almonds are offered in 3 different sizes:
1lb bag: $18
5lb bag: $87
33lb bag: $478
Nuts.com Organic Cacao Nibs Review
Hey, Hershey. I know; we had a nice run together, but I can't keep going on like this. For those looking to break their lifelong marriage to Reese's Peanut Butter Cups and Kit Kats, have an affair with the Organic Cacao Nibs from Nuts.com instead.
Packed with antioxidants, fiber, and nutrients, organic cacao is considered chocolate in its purest form. It's intended to give that satisfying, indulgent bite, while making sure to keep your spirits lifted.
While you're free to blend them up to make natural candy bars, this Nuts.com review suggests making energy bites or chia seed pudding out of the nibs.
In terms of price, the Organic Cacao Nibs are offered in 4 available quantities:
Sample: $3
1lb bag: $13
5lb bag: $63
17lb bag: $162
Nuts.com Toasted Corn Review
There's nothing more annoying than getting popcorn stuck between your teeth. Fortunately, the Toasted Corn comes with no thin shells or unpopped kernels. Considered the original corn snack of Kraft Foods, this salty treat provides that savory and sweet kick of deep-fried cobs.
Here's a fun fact, this snack was invented in California in 1936. It was usually sold in taverns and was accompanied by beer. In terms of Nuts.com recipes, we recommend using them as a garnish for salads.
Alternatively, it could make a great breading for chicken or fish if blended up. Bright yellow and crunchy in texture, the Toasted Corn is sold in 3 different packets:
1lb bag: $6
5lb bag: $29
25lb bag: $77
Nuts.com Raw Pepitas Review
There's no need to wait until Halloween—these Raw Pepitas provide that coveted salty bite that's slightly reminiscent of autumn. Otherwise known as shelled pumpkin seeds, this blend is often called a superfood due to its high nutritional value, including a mix of healthy fats, proteins, antioxidants, dietary fibers, and minerals.
With that in mind, it's probably the reason why trail mixes and granola bars are chock full of this stuff. For those looking to amp up their cooking or baking skills, a standard muffin or oatmeal recipe will do wonders in showcasing this as its star ingredient.
Given a two thumbs up by the brand's registered dietitian, the Raw Pepitas are available in 3 alternative price points:
1lb bag: $7
5lb bag: $34
27.5lb bag: $137
Nuts.com Organic Coconut Flour Review
Nuts.com's Organic Coconut Flour acts as the best substitute for wheat-based alternatives. As part of their gluten-free category, this blend is made out of 100% organic unsweetened fruit.
Not only is it high in protein and fiber, but it also smells amazing due to its earthy and slightly sweet fragrance. This baking alternative is designed to be extremely versatile, as it can be added to sweet or savory goods.
It's worth noting that Nuts.com provides some helpful tips on how to use this product effectively. Best used in muffins or bread, opt for the healthier route with the Organic Coconut Flour in 3 ways:
1lb bag: $5
5lb bag: $25
25lb bag: $100
Nuts.com Jumbo Raw Peanuts Review
So, what about that airplane food? If you hate the bland taste of most pre-packaged nuts, make your own with the Jumbo Raw Peanuts pack. Sourced directly from Virginia, this blend requires a bit of handiwork when it comes to preparation.
These nuts need to be boiled in saltwater for a reasonable amount of time. After deshelling them, you're free to add whatever spices to the mix. We suggest chili powder and regular salt for a savory and spicy kick.
Alternatively, customers can opt for a sweeter version—such as peanut brittle. In that case, the Nuts.com strawberry hard candy can be added to your confectionary mix. High in protein, fiber, and antioxidants, cook up a storm with the Jumbo Raw Peanuts. It's currently offered in 3 available sizes:
1lb bag: $3
4.5lb bag: $13
25lb bag: $50
Nuts.com Jumbo Medjool Dates Review
The Jumbo Medjool Dates are considered the chocolate box equivalent to dried fruit. Succulent, moist, and sugary in taste, you may forget that you're eating something healthy!
Dates are widely known to be rich in vitamins, fiber, potassium, magnesium, and iron. Not only do they satisfy the regular sweet-tooth, but they also contribute wonders to the circulatory system.
Chewy and irritable in nature, these snacks can act as a substitute for gummy worms. Ideal for brownie mixes, dessert squares, granola bars, and more, the Jumbo Medjool Dates can be bought in 4 different ways:
Sample: $3
1lb bag: $9
5lb bag: $44
15lb bag: $97
Where Does Nuts.com Get Their Nuts?
Nuts.com doesn't have a primary location for all of its snacks. Depending on the product in question, they import their goods from all over the world. This includes Marcona Almonds from Spain and Jumbo Raw Peanuts from Virginia.
If you're curious about learning more about the origins of your treat, we recommend looking at the item description for additional specifics.
Who Is Nuts.com For?
Got the munchies? I'm sure most of you have craved some dried mangos or pistachios in the past. In that case, Nuts.com can act as an online source for your snack-related needs.
Most of their products cater to the healthy crowd since Medjool dates and pepita seeds are commonly known as superfoods. For those who'd rather gorge on sour gummies or chocolate truffles, this brand may not be suited for them.
It's worth noting that Nuts.com only offers bulk sizes for their items. So unless you really love hazelnuts or dehydrated blueberries, this company may not come as a wise option.
On the other hand, those who own a bakery or restaurant can find Nuts.com a reasonable alternative for their business needs.
Comparison: Nuts.com vs. Royal Nuts
Which company is more nuts about nuts? In this special segment, we're hosting a comparative dual between this snack brand and Royal Nuts. From product variation, price to company perks, we've compiled a shortlist of similarities and differences between these two businesses.
And of course, it's ultimately up to you to crown the winning champion.
Offers 2,000 different products on its website. This includes nuts, dried fruit, chocolates, superfood powders, coffee, tea, and baking goods
Provides bulk pricing with their items (with some occasional samples)
Has a recipe guide for customers to use
Affordable prices
Royal Nuts:
Offers a smaller selection of nuts and dried fruit on their website. They also sell chocolate-covered treats and nut butter
Not provided in bulk-size compared to Nuts.com
More expensive
Nuts.com Reviews: What Do Customers Think?
The snack binge can do much harm in wallowing out your bank account. With that in mind, customers need to be extra thoughtful in choosing their desired savory treat or chocolate sweet.
In this Nuts.com review, we'll don our food critic hat to help readers reach a more informed decision. To start things off, let's take a look at some of their highly-rated products down below:
The Marcona Almonds: 746 reviews with 4.9/5 stars
The Organic Cacao Nibs: 975 reviews with 4.7/5 stars
The Corn Nuts: 1,477 reviews with 4.8/5 stars
From what we've gathered so far, it seems that Nuts.com is well known for its delicious selection of snacks. A majority of customers are giving their full-star recommendations for some of their mixes, most notably towards their nuts and dried fruits. Others are incorporating them in recipes and meals for added flavor.
"Love these! I add them to my protein drink to give it a subtle cocoa flavor without the sugar," one customer wrote for Organic Cacao Nibs.
We also found promising testimonials on other websites such as SiteJabber and Trustpilot. Their ratings go as follows:
SiteJabber: 152 reviews with 3/5 stars
Trustpilot: 244 reviews with 3.3/5 stars
This is where things get a bit shaky, as this Nuts.com review found varied customer experiences online. On the one hand, buyers seem to be a fan of their snacks. A couple of users noted the health benefits attributed to some foods, which helped boost their ratings.
"These walnuts are delicious, definitely for a more Refined palate, rich and skunky in flavor (in a good way like truffles). It's definitely worth acquiring a taste for the health benefits alone," one Trustpilot user wrote.
Some independent blogs, such as ALittleInsanity.com, wrote a favorable review of this snack brand. The author was quick to mention their convenient packaging and quality of customer service.
"Best nuts, seeds & customer experience ever! If you don't have access to fresh nuts at a reasonable price near you – then give Nuts.com a try," reads the Nuts.com review by ALittleInsanity.com.
On the flip side, others complained about the quality of its customer service and products. We uncovered a few dismal reports of foods being stale, melted, or expired.
"Received a melted piece of crap that was supposed to be a chocolate lover's dream…I asked for help and they said to order another one at my own expense," one SiteJabber user detailed.
All in all, this Nuts.com review is inclined to give the internet version of a Michelin star to this brand. This is partially due to the number of positive testimonials online.
Is Nuts.com Worth It?
Save yourself a trip to the grocery store—this Nuts.com review encourages you to give the brand a shot instead. I was generally impressed with their broad selection of snacks, as customers can find a variety of dried fruits, sweets, baking goods, and nuts on their website.
As an added note, all products come with a nifty nutritional label coupled with more information about health benefits. Not only is this useful towards the buyer, but it helps bridge some trust between the consumer and the company.
Customers can also visit their recipe blog, which is full of delicious and nutritious how-tos for savory and sweet goods.
When it comes to negatives, most of their products are offered in bulk-size, which can be seen as inconvenient for some buyers who just want to try their snacks. But, overall, if you're obsessed with a particular treat and are looking to save a bit of money, Nuts.com is the place to be.
Nuts.com Promotions & Discounts
This Nuts.com review found that the brand offers free shipping over $29 for new customers who sign up for their mailing list.
As of lately, we haven't come across any Nuts.com coupon codes or promotions on their website. It's a good idea to keep an eye on their social media pages for any future updates.
Where to Buy Nuts.com
Have a craving for dried cranberries? Customers can visit nuts.com to see what they have in store. Currently, their products are not sold in other retailers such as Walmart or Amazon.
FAQ
What is Nuts.com's Shipping Policy?
This Nuts.com review is happy to report that they offer free domestic shipping on orders that total $59 or above. Anything below this amount is charged a flat fee of $7.
They also provide other delivery options such as express and international. For American customers, packages will usually arrive within 3 to 5 business days.
Once your order has been processed, Nuts.com will issue a tracking number that you can use to monitor the purchase.
What is Nuts.com's Return Policy?
Unfortunately, Nuts.com has currently paused all returns and refunds on their perishable snacks. That being said, they do encourage buyers to contact their customer service team with any problems within one week of delivery.
If you have any other questions about your order, or if items are missing, it's best to contact the brand right away.
How to Contact Nuts.com
For inquiries unrelated to this Nuts.com review, you can contact the company through:
Phone: 800-558-6887 or 908-523-0333
Email: care@nuts.com
Filling out their request form online
Mailing address:
125 Moen Street
Cranford, New Jersey
07016