Crochet hooks and dog jumpers? What was Tom Daley thinking?
It's not uncommon for celebrities to find ways to cut corners when launching a fashion brand, and Kim Kardashian's ill-fated "Kardashian Kollection" has been accused of using child labor. Ivanka Trump allegedly copied another designer's work. But this week, Tom Daley is sure to take the startup cookie: He designed some of the garments, but instead of bothering to finish them, he cut out the middleman and left the manufacturing process to the customer. Lord Sugar, take note: this chap has ideas.
"I love this new collection, I love summer, being outdoors with family and friends, going on vacation, barbecuing on my rooftop," Daley said in a statement introducing a nine-piece collection, "Summer With Love," which is so seasonally appropriate that it doesn't just launch a week after midsummer has passed, but consists entirely of wool products. Literally. A few days of yarn only.
Daley, 28, continues, "For me, this collection sums up that feeling and contains pieces that you can create that can be part of your summer memories." Those memories can probably be summed up as, "There simply wasn't enough prickly heat cream in the world at that time …… but at least my arms were cool."
A professional adventurer, Daley is also one of a growing number of celebrity "knitting netizens" who were spotted manipulating his yarn in the stands at the Tokyo Olympics last year, where he created an elaborate GB-themed cardigan and dog pullover.
Reports led to a surge in the hobby's popularity, with a million people taking up the hobby during the blockade. Now, Daley is making hay, or at least a lot of sweaters, for his clothing line Made With Love. he sells crochet, home goods, children's clothing, dog pullovers and a Pride line, and has 1.3 million followers on his knitting Instagram page.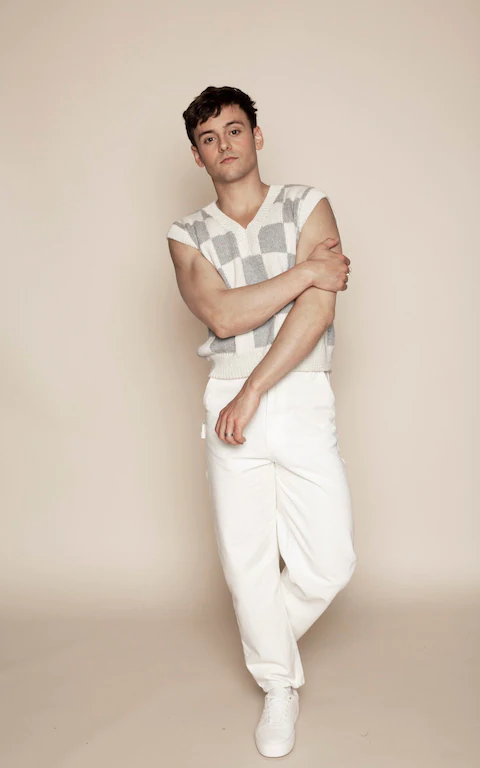 "One of the things that kept me sane throughout the whole process was my love for knitting, crochet and everything," Daley said in an Instagram video after the Olympics, where he won a gold medal. He then showed off a cute little bag he made.
"I made a little 'comfort' for my medal this morning to keep it from getting scratched. It's inserted like this and I have [a] Union Jack and [a] Japanese flag on the other side."
The new summer collection has soft crochet and knitted undershirts (£65). It has knitted cardigans (£95); baby blankets (£79) and large baby blankets (£120). And for reasons that aren't entirely clear, there's a lace wall hanging (£35) and a botanical hanger (£29), because if you're wearing a knitted undershirt in July, you might as well match your dragon's blood tree.
Daley is "obsessed with the undershirt" and models it with nothing underneath - a look not uncommon in fashion circles (Harry Styles embraced it a year ago, and now ASOS has a copycat 30 pound version), but it still doesn't look like Frank Spencer grabbed anything in the middle of the night to answer the door. In fact, we're told that everything in the collection is "something that Tom makes and wears himself".
A laudable idea, to be sure. The popularity of knitting in recent years has come down in part to fashion, boredom, and just saving money or the planet. Instead of offering consumers another cheap fast fashion endorsed by celebrities, Daley offers something different. Mostly because his range simply isn't complete.
Last year, Daley's first jerseys sold out almost immediately, but his idea may only spark a worrisome trend among the celebrity class. Next up: Phillip Schofield's vintner's kit (just grapes, yeast and a little sulfur dioxide) and Victoria Beckham Basics (a black cloth and a pair of scissors). Oh, Tom, what have you started?