From a $12 salad to an $11 plant-based pizza, these are the best dishes at Disney World's newest restaurants and cafes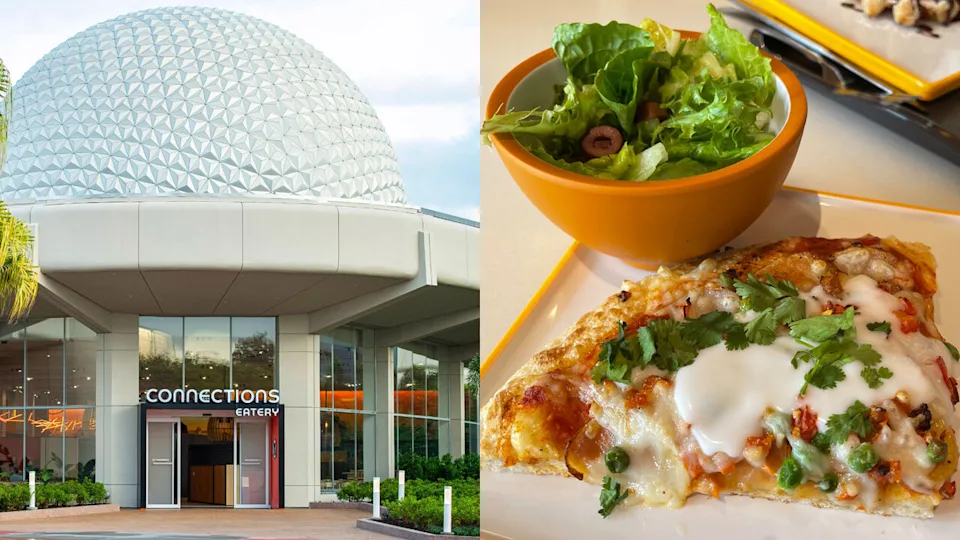 It's time to Connections, Disneyland foodies.
Connections Cafe and Connections Eatery, the latest additions to the Walt Disney World food scene, have opened at Epcot as the next link in the chain of park updates.
But unlike its predecessor Electric Umbrella - which was considered a bit dated by Disney fans at the time of its closure - this quick-service restaurant and cafe combination is more than just a simple burger and fries. In its place, Connections brings a more globally inspired cuisine and atmosphere to Epcot, which opened in 1982 and is known for its World Showcase, where 11 countries share their best cuisine with park visitors.
Brianna Pfost, artistic director of Epcot, who works for Walt Disney Imagineering, said the new location includes a café serving Starbucks drinks and a full restaurant that lends itself to the theme park's larger storytelling. The storytelling begins with four "communities," three of which are brand new: long-term world showcases representing countries such as Mexico and Morocco, and Epcot's World Nature, World Discovery and World Celebration sections.
"We're near the newly opened World Celebration, and it's all about celebrating the common things we share around the world," Pfost told Yahoo Connections about the location in the center of the park. "Of course, food is a big part of that, so we really wanted to make sure we embraced the idea of a global community."
The centerpiece of the restaurant is a more than 160-foot mural called Global Gathering, a massive piece that celebrates cultural traditions from around the world in a single work of art. "It's all about representing different cultures and staples from around the world, but also showing everyone gathered around a meal," Pfost explained.
The mobile coffee spot Connections Cafe at the location serves favorites from Starbucks, which first relocated from the area formerly known as Future World to a temporary location in the World Showcase. But aside from all the caramel macchiatos, the venue is no ordinary coffee shop. A glass case filled with coffees and teapots from around the world sits to the left of the massive, modern counter, reminding guests once again that global food habits and cultural traditions are often similar rather than different.
"Our global mug display is all about the containers used to brew and steep coffee and tea, because that's something everyone universally shares," Pfost explains. "We all want our little caffeine …… We all have those little traditions - you have a mug that you love - and we wanted to explore that , and share how each different culture has unique traditions, but how similar these containers look."
Working with Walt Disney Imagineering, Epcot's chefs embraced this global inspiration to create a menu for Connections Eatery - the fast-casual restaurant that accompanies the cafe - that -engaged a group of park visitors while introducing them to international ingredients and flavors.
The open kitchen allows guests to watch the show as chefs prepare meals and snacks, from classic fried chicken sandwiches to Belgian Liege-style waffles, a creamy omelet-based waffle infused with sugar beads. " where Disney chefs test new menu items before debuting them at the park to create a menu that "connects guests to each other and to the world of food around them."
According to Tosh, what sets Connections Eatery apart from other theme park restaurants is that everything is homemade in front of an audience. "We basically make everything from scratch in the restaurant," he says. "It's a great place for our actors to show off the work we do - a lot of our kitchens are completely enclosed in glass so guests can see our actors at work."
"We're [usually] behind a wall in the back, so we don't see our guests' reactions to the food," Tosh added. "It's really enjoyable for the actors to see [guests enjoying their meals], especially the little kids, who come to the glass excited to see what's going on."
But how do the restaurant's homemade, internationally inspired meals taste? As a weekly visitor to Epcot, I couldn't wait to dive into the menu, which is largely inspired by French, Italian and Asian cuisine.
The Leftover Chicken Salad is a light and filling lunch, perfect for a hot Florida day. Served with broccoli salad, refried beans and fresh kale, it's certainly not what you'd expect from a theme park, and it tastes like a perfectly golden piece of fried chicken slathered in sweet and salty sauce.
As part of Walt Disney World's commitment to serving plant-based food on every menu, the curry and spice pizza is made with fresh dough and topped with tikka masala, carrots, potatoes, peas, tomatoes, plant-based mozzarella and lime "yogurt" sauce - the standard A popular twist on slicing.
Since opening on April 27, fan favorites on the menu have included the French bistro burger, covered in caramelized onions, mushrooms, bacon and brie, and the Liege waffle - a creamy omelet dough coated with pearl sugar and transformed into a crispy waffle covered with strawberries. Chocolate and whipped cream - guaranteed to satisfy the sweet tooth of any sweet tooth.
Tosh believes that each menu item, whether familiar or foreign, connects guests with new cuisines and ingredients that are staples of their own kitchen and culture.
"[The mural] is a beautiful painting depicting food and people from all over the world," Tosh said. "There's corn from Mexico, rice from China, apples from Turkey, cheese from Belgium - guests can see all the different areas. They look at the mural and say, 'Hey, I see [the food in the painting], I see it.'"
Connections Café is open daily at 8:30 a.m. and serves Starbucks favorites as well as breakfast sandwiches and light pastries. connections Eatery serves lunch and dinner daily at 11 a.m. and closes at 9 p.m.