I remember being in high school and seeing all the beautiful patterned bags and wondering why everyone was obsessed with this brand! Well, before I give my Vera Bradley review, let's get to know Vera Bradley a little bit.
About Vera Bradley
Vera Bradley is named after co-founder Barbara Baekgaard's mother. The brand began between two friends, Barbara Baekgaard and Patricia R. Miller, when they realized there was no such thing as beautiful feminine luggage. Thus, Vera Bradley was born! Vera Bradley is known for its signature prints and sleek style.
Fun fact about Vera Bradley (found on their Instagram story) they have a team of Munsell color-tested colorists. That's the secret to their colors being so perfect!
How I came across the brand
I recently purchased a Calvin Klein crossbody bag that felt great, but caused some space issues in my purse and I realized I needed a new purse. At the time I was using a long folded wallet that didn't fit in this bag. So I was looking for a smaller purse.
I saw the coin purses at Vera Bradley and thought they would be perfect for my new wallet. Plus, I had never tried this brand before, so I decided to give it a try.
My Purchase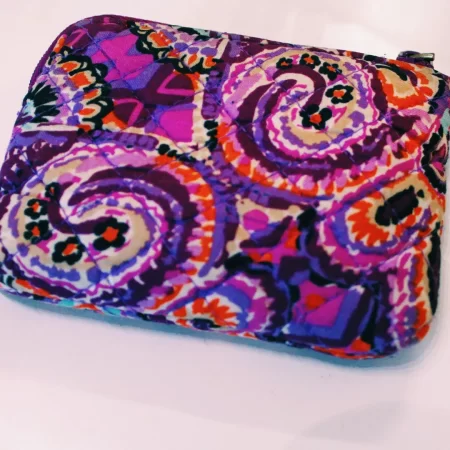 So I bought the Vera Bradley signature coin purse from Dream Tapestry. This is one of their sale items as they plan to discontinue the designs. Personally, I don't see anything wrong with these designs for sale, I think they are just getting rid of the old ones in order to introduce the new ones. The dimensions of this purse are 4.75 inches wide and 3.5 inches high.
The coin purse is quilted and has a small loop inside for lip balm. There is a zipper closure to keep coins safely inside. A small note in the pocket holds your credit/debit cards. The rest of the wallet can hold your cash, rewards cards and gift cards. Overall, I really like my coin purse and I'm glad I got it! I remember going to Panera's Bakery once and the cashier was raving about my coin purse!
Review of Vera Bradley
If you're looking for something fun, I think Vera Bradley is a great brand! I remember not liking their designs when I was younger, but I think it depends on the design. Some of them are actually really attractive, while some I don't really like, but everyone has their own tastes. I think the functionality of their products is really great! I was surprised at how well organized my little coin purse was and how I could fit so much in it. It's a little pricey because it's more of a high end brand, but if you find a lot of deals or use coupons, it'll be worth it!